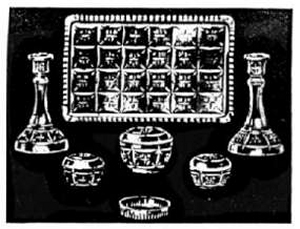 ---
Catalogue image is copyright of and used with the kind permission of Glen & Stephen Thistlewood Sowerby's Ellison Glass Works volume two and may not be used elsewhere without their consent.
Produced:  1933
Pieces: 
Tray 11" x 7"
Pintray
Large lidded pot
Small lidded pot
Candlestick
Known colours: Clear, green,
Notes:  The pieces of the Junior set match those of the Cadet set except for the tray. The Cadet tray has the star centre, the Junior tray (as above) has an all-over repeating pattern.
Credits: Glen & Stephen Thistlewood,
---