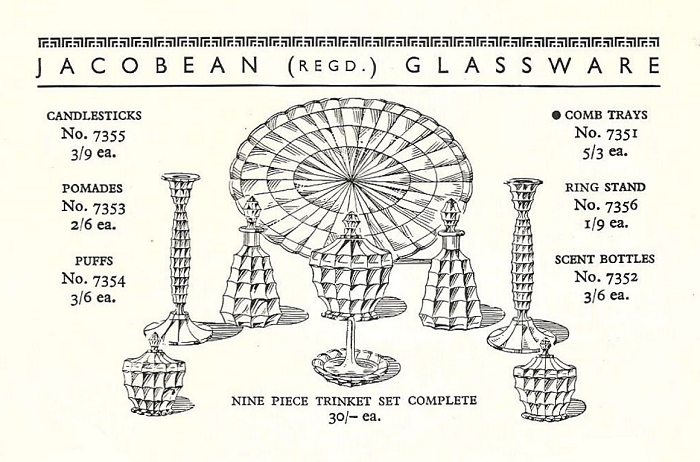 ---
Normally found as a 7 piece set, although it was produced as a 9 piece set, as the perfume flasks have often been separated from the rest.
The Jacobean pattern was originally made by Josef Inwald in Czechoslovakia and later made by Davidson's in the UK. The main difference between them is, according to Glen Thistlewood who has studied both companies' output, that the Inwald pieces have a very highly polished base, which she describes as a mirror-finish as it is so shiny.  The Clayton Mayers catalogue provided by Mike Tomlin shows Jacobean pieces being made in both the UK and on the continent at the same time - the British Made pieces being flagged up on each page by a large dot by their name, as with the Comb Trays above.
Pieces:
Tray (Made in Britain)
Pin-tray 
Large lidded pot (puff)
Small lidded pot (pomade)
Tall candlestick
Scent bottle
Known colours:
Flint, amber, 
Credits:
Glen Thistlewood for her information on the Jacobean pattern and particularly on the base finishes.
Denis Hebden for his comments on the Jacobean pattern, and who was ever so slightly envious of my amber set shown here!  :)
Mike Tomlin of the fabulous Victorian Pressed Glass website for the catalogue image, which comes from a Clayton Mayers catalogue, and which shows the tray as British Made and the rest as continental production.
---