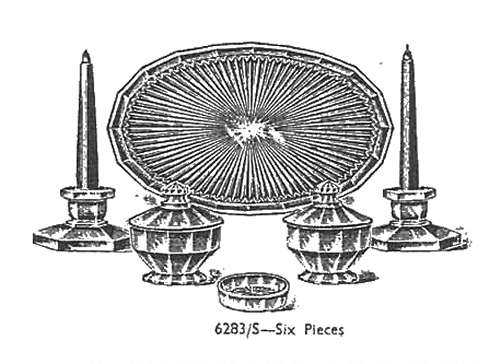 ---
The six piece version of the 283 set
Produced: Seen as a six piece set consisting of tray, pin-tray, two short candlesticks and two small lidded pots.  May also be seen with a ring-holder as the blue frosted set in the gallery.
Pieces:
No 4 Oval tray 13" x 8"
Pin-tray 3"
Lidded 4" pot
Short candlestick 2½"
Ring-holder 3"
Notes:
"In the 1928 and 1935 catalogue, this set is shown with a ring stand, however, production of the ring stand in Cloud Glass ceased in 1933. The ring stand only appears to have been made in Amber and possibly Purple Cloud as well as plain colours." [Source: Chris & Val Stewart, Cloud Glass website]
N.B. The ring-holder is also known in blue cloud, pink, blue, amber, jade, clear and black glass as in the gallery below.
Known colours: Jade, Amber, blue frosted, Amber Cloud, Green Cloud, Purple Cloud, Blue Cloud, clear, 
Credits: Davidson Glass, a history - Chris & Val Stewart. Photos by kind permission of Eugénie Peters, Wendy Duncan, BM, Mrs Vulture, 
---