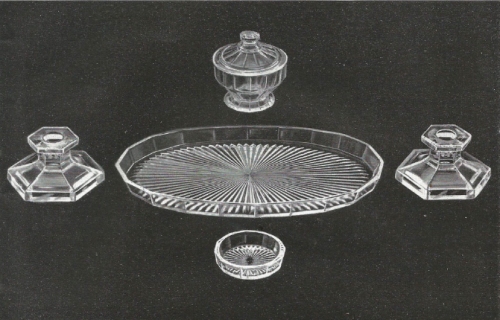 ---
Five piece version of the 283 set, containing a  No. 4 tray, two candlesticks, a lidded pot, and a pintray.
Produced:  Shown in the 1956 catalogue.
Pieces: 
Tray (oval) 13" x 8", pattern no. 4
Pintray 3", pattern no. 283
Llidded 4" pot, pattern no. 283
Short candlestick 2½", pattern no. 283S
Known colours:
Flint, amber, emerald, pink, blue (all clear and frosted)
No cloud glass sets made. 
Credits:
Davidson Glass, a history - Chris & Val Stewart.  Mike Tomlin of the fabulous Victorian Pressed Glass website for the 2nd catalogue image.
---