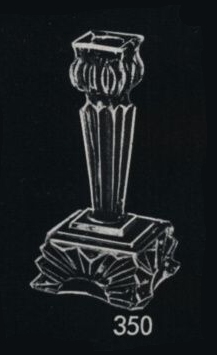 ---
Produced:
From 1960
Pieces:
Atomiser, pattern no. 510
Perfume flask, pattern no. 510
Powder pot, pattern no. 510
Comb tray, pattern no. 510
Large tray, pattern no. 200, size 30cm x 19.5cm
Candlestick, pattern 350 , size  14cms high, base 6.5cm x 6.5cm.
Known colours:
Clear, clear/amber flashed, clear/amethyst flashed, pink, uranium green,
Notes:
The round bowl often seen with this set may be pattern no. 031, 032 or 033 from page 2 of the 1960 catalogue.
Credits: 
Pamela Wessendorf and Dieter Neumann for their catalogues on http://www.glas-musterbuch.de/. Dave theElench from the Glass Message Board for providing some of the dimensions. 
---